People like Martin Luther King Jr., Steve Jobs, and the Wright Brothers had little in common, but they all started with WHY. They realized that people won't truly buy into a product, service, movement, or idea until they understand the WHY behind it.
Simon Sinek
Like many great projects, the Ecosystem Handbook started with a strong WHY – desire to help organizations and people work together better. That was six months ago. And we still believe that the WHY as we defined it is valid. Ecosystems are about people. And people, no matter how hard we try, are not always rational. The emotional side is equally important.
Now that we are live with the discussion about the Ecosystem Handbook and the book is been printed as we speak, we would like to share some of the insights about the addittional WHYs behind it. Namely: Why do we think ecosystems are important? Why another leadership guide? Why an old-fashioned book? Why the digital platform? Why us?
Why do we think ecosystems are important?
In today's rapidly changing world very few companies or people can make it alone. Collaboration in different forms is needed to meet customer needs, to solve grand challenges and simply keep up with the speed of change.
Ecosystem collaboration is a powerful way to multiply an organization's capabilities. It is about becoming faster, stronger, more resilient and innovative. And by doing that creating value for all ecosystem partners and broader society and economy.
1st WHY: Ecosystem collaboration is here to stay. You cannot hide from it. So just do it!
Why another leadership guide?
The ecosystem impact can be measured in the investment in research development and innovation, value of the new solutions developed, the number of jobs created, and the capabilities developed. So rather than justifying why ecosystems are needed, we suggest focusing on the "art of leading and creating impact".
There are myriad of leadership guides for creating, fine-tuning or taking your organization to the next level by shaping your organizations' culture and leadership skills. Yet it is not enough. In ecosystems the challenge is multiplied by the number of partner organizations. Their culture is not a sum of the partner organizations' cultures. It can be better. Or it can be worse. And it can be shaped and cultivated.
Ecosystem leadership is tough. Different organizations and people bring their capabilities to the table. It takes courage to see others strengths, acknowledge their skills and superpowers. The challenges relate to acceptance and trust. Micromanagers face challenges, and if egos get in the way the battles are inevitable. In the worst cases ecosystems become egosystems.
2nd WHY: There are challenges that typically rise along the ecosystem journey. The Ecostem Handbook provides practical tools for managing them. It is not just another leadership guide!
Why a book?
Why not for example a digital tool that would automate parts of ecosystem management? Oh well. Because ecosystems are all about people working together. And despite of the fact that we live in the era of digital tools and video and audio content flows, there is still something about a physical book.
The Ecosystem Handbook is particularly attractive in old-fashioned paper format. It is visual. It is something that you want to maybe skim through first. Then read bits and pieces. Mark your favorite chapters. Or at least that's what we hope that you will do. In the era of online content, some books are simply better when read on paper. We hope that the Ecosystem Handbook is that kind of book.
There is a saying that you should not judge a book by the cover. But in this case, maybe you should?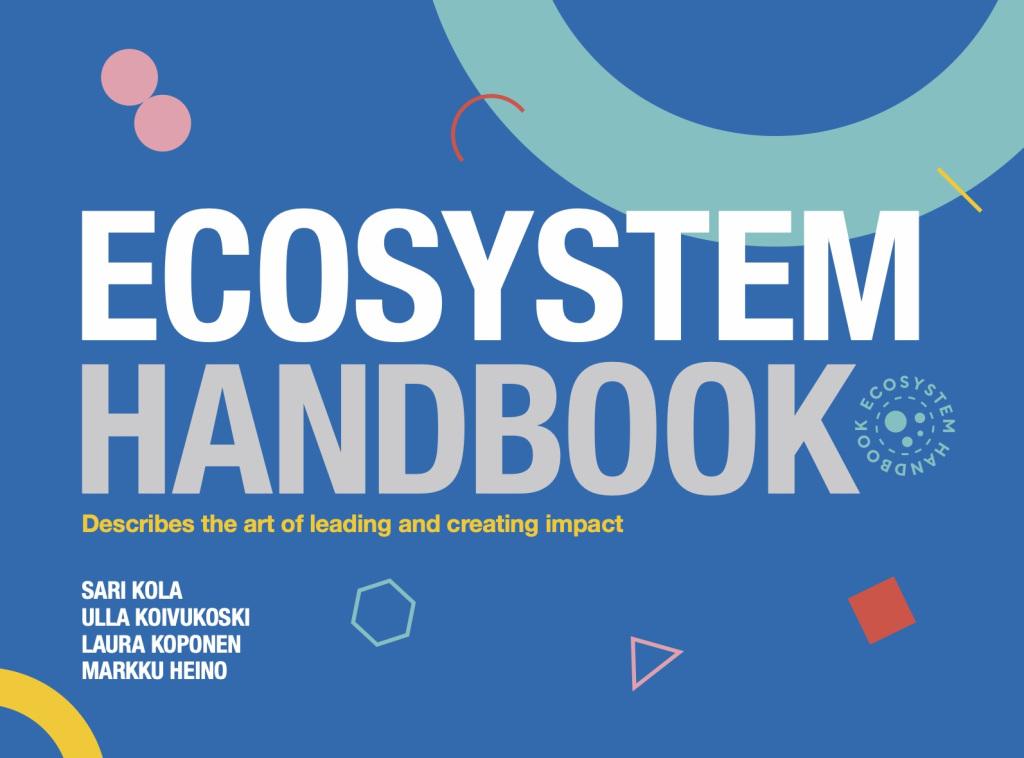 The Ecosystem Handbook is a heavy-weight information package designed for a curious reader. The kind who wants to learn about self and others. The kind who does not take anything for granted or take the obvious route. The kind of reader who rises by lifting others. Are you that kind of a person?
3rd WHY: In an intangible world, simple solutions are tangible!
Why digital platform?
The Ecosystem Handbook is just a beginning. If you are reading this post, you have found your way to www.ecosystemhandbook.com . We see it as a platform for sharing stories about ecosystems, about people and about impact.
Therefore, we recommend the following approach: Buy the book and sign up for a ride with us. During the next weeks, we will start unveiling valuable content for sharing best practices, key learnings from research and ecosystem journeys. And of course people behind the stories.
4th WHY: Our ecosystem journey is just beginning. We welcome you to join us!
Why us?
Most ecosystems start with key people with passion. And that's what we all share. For us, open innovation is something that we have been dealing with in different contexts for a long time. Same goes for leadership. We are all experienced leaders who have been building and leading teams, organizations and ecosystems. We wrote the book to start discussion about a topic that is close to our hearts. To share what we know and to learn from others. As seasonal leaders we acknowledge the importance of rational decision making and related business planning processes. But at the end, we believe that people make the difference. When passionate people come together to solve problems that they find meaningful, they put their brains and hearts to work. That's when the art starts.
5th WHY: Experience and passion to learn more!